More decorated cupcakes, iPhone style. I know, I know, I can't help it…
You're busy. Juggling a million things everyday, and trying to not forget a single one as they're all equally important. You're also a tech savvy, world traveling, professional, blogger, parent, hotshot web designer and one cultured individual — so naturally you have the iPhone to help you balance the crazy fast paced world you live in.
Well, just for you, here are the top 40 apps you cannot live without — because we know not all apps were created equal, and the last thing you have time for is sorting through all the barely functioning ones. These are apps for people who love Ruby, for people who sleep with their Mac next to them, and for people who have memorized every inch of Photoshop. Enjoy.
Time Management
Omnifocus
We've all wanted to be more productive, but the lack of equipment and enthusiasm got the best of us. Well, now you can keep track of projects, work, home improvement, and meetings all at your fingertips with OmniFocus. Winner of the 2008 Apple Design Award, this app is the epitome of organization as it allows you to keep track of tasks by project, place, person, or date.
Price: $19.99
Jobs
Simple in name, but complex in function. Jobs is aimed at the working professional who needs to log how much time is spent with each client. You can enter in clients, multiple timers, sessions, and currency symbols. When you're done, just export it into XML, CSV or a text message.
Price: $1.99
Remember the Milk
Is the Notes function on the iPhone difficult because it doesn't allow you to cross off things you've finished? Remember the Milk is the ultimate to-do list, complete with color-coding and categories. Match that with the RTM webapp on your Mac or PC, and you have the one of the best to-do lists that are available.
Price: Free
43 Actions
Keep track of projects, organize in contexts, get your daily or weekly agenda by email, add new actions, archive and finish tasks, no matter what project – 43 Actions can help you improve efficiency and organize tasks.
Price: Free (Webapp)
Things
Things is my favorite task manager, and for good reason. It's incredibly intuitive, and the focused design makes it free of bloat and clutter. Create agendas, break projects into steps, and set due dates, all with simplicity lacking from most iPhone apps. Expect good things, the Mac version of Things won the 2009 Apple Design Award, the highest award available for OSX applications.
Price: $9.99
Tech Utilites
Mocha VNC Lite
Using your iPhone, you can connect to Windows PC or Mac OS X to see files, programs, and resources just as you would sitting at your desk. This is like VMWare Fusion for iPhone users. Bet your blackberry can't do this.
Price: Free for Lite version, $5.99 for Pro
Remote
Control audio and video playback in both iTunes and Apple TV using Remote software. Superbly helpful for listening to music while working away from your computer.
Price: Free
Instapaper
Ever find an intriguing new business or design idea but don't have time to finish reading? Use Instapaper to save and read later.
Price: Free for Lite, $4.99 for Pro
EverNote
This is a great application to use to take notes at meetings and client consultations. Record sound, take pictures, and save text in a searchable database, and review it on your phone or PC.
Price: Free
Bump
Swap contact info buy literally bumping two mobile phones together with this application.
Price: Free
Quickoffice
You can now view, edit, and create with this miniature version of Microsoft Office. This includes Word, Excel, and Powerpoint right at your fingertips.
Price: $12.99
Air Sharing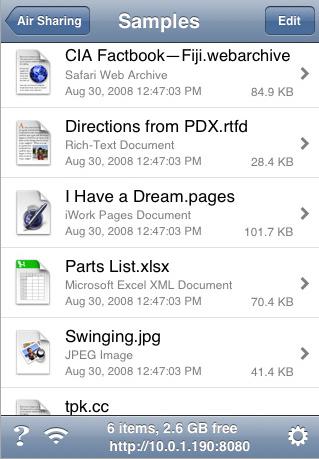 Turn your iPhone into the world's most expensive USB drive. Mount your phone as a wireless drive on any operating system (yes, even you Linux folks). Drag and drop files, and view tons of common file formats right on your phone.
Price: $4.99 or $9.99 for Pro
Brainstorming
iBlueSky
Capture, summarize, and develop ideas on the go with Brainstorming. This app allows you to capture, cut, copy, and paste ideas and topics. You can also scroll, zoom, and rotate pages, and when you're all done – just email the finished project in PDF or PNG formats to any contact.
Price: $9.99
Caliper
You can measure things with your iPhone. I have a designer friend who uses this instead of a ruler when he is working in print. I think he's crazy.
Price: $0.99
iTalk Recorder
Record notes and memos to yourself so you can capture your next big idea. I like iTalk Recorder even though Apple released a Voice Memo app with the 3.0 OS. Still, it's nice because it allows you to pick sample rates, and I get the interface is a little better than the Apple app.
Price: Free, or $4.99 for premium
Wikipanion
Love Wikipedia? Now get it on your phone. This app remembers where you've been, lets you search in different languages simultaneously (for those bilingual users), and gives you dictionary lookup and pronunciations.
Price: Free, $4.99 for plus
SimpleMindX
Lay out complex ideas with mind mapping on your iPhone. This is a great tool for laying out blog and website designs, but it can be used for any project that requires flow control.
Price: Free, $6.99 for plus
TwitterFon
For all you twitter fans who have moved on from old school Facebook, this app is for you. Rather than getting all those annoying text updates and running up charges, TwitterFon keeps it clean with a simple user interface while connecting you to all your friends' tweets.
Price: Free
City Conquerers
Urbanspoon
Use Urbanspoon to quickly find good places to eat when you're on the road or meeting a client for a meal. Select the type of food you want, the price range, and shake your iPhone to find a great restaurant in seconds.
Price: Free
Yelp
Want ratings and reviews on local restaurants? Just check your iPhone and Yelp searches restaurants near you with the price range you want. You can also get the hours they're open, or instantly connect to Maps for directions.
Price: Free
AroundMe
Are you in a new and unfamiliar city? Instantly find out about your surroundings with AroundMe by getting nearby listings of businesses, restaurants, gas stations, hospitals, hotels, and much more!
Price: Free
Time Savers
reQall
reQall captures tasks and ideas using your voice, organizes your information with Outlook or Google Calendar integration, shares reminders and memory assistance via the reQall Memory Jogger.
Price: Free
Flightcaster
As Techcrunch reports, Flightcaster tells you when your flight is delayed hours before the airline will. The app will keep track of FAA alerts, weather, network congestion, historical trends, and other factors, which are all run through a big equation. Then, Flightcaster will give you a percentage chance as to whether your plane is delayed, and by how long. Then, you can reschedule.
Price:$4.99
Package Tracker
Waiting for a mission-critical package to arrive? Don't miss, just track it on your iPhone.
Price:$0.99
Finance
PayPal
Transferring money was never so easy. Check your accounts, send money, view recent transactions, it's all there to support your ebay and other online shopping habits.
Price:Free
Loan Shark
Everyone has payments to make, especially homeowners with mortgages. This app gives you full financial control with features like a full amortization table, one-tap extra payment (find out how much you save in the long run with that extra payment), payment calculator, compare loans, and nearby banks. Of course, if you want to calculate mortgage rates, try a Quicken Loans mortgage calculator.
Price:$2.99
Day Bank
This app offers everything from unlimited multi-account budgets to transaction charts and categories. Day Bank keeps track of everything a bank does, with filter sorting for transactions, spending tracker, and color coded indicators.
Price:$0.99
E*Trade Mobile
Battle the bulls and the bears all day long and conquer The Street from the comfort of your iPhone. Ideal for entrepreneurs, freelancers, and day traders who like having instant access to the market.
Price:$Free
Save Benjis
Named the best app for price comparisons, this app allows you to get instant price comparisons and highlights rebates, free shipping, and special offers to help you save money as you shop.
Price:$0.99
ACTCurrency iPhone Currency Converter
Travel much? If so, this handy currency converter can help you figure out how much you're spending in more familiar units.
Price:$0.99
Bills, Budgeting, and Expenses
Harvest Time & Expense Tracker
Keep track of client accounts and expenses with Harvest for the iPhone. It's an indispensible tool for freelance bloggers and designers. Track revenue and receivables, log time, and invoice clients painlessly.
Price:Free, but you have to have a paid account with Harvest
iBillTo
Track expenses with this free web app. It lacks the simplicity of Harvest, but it's fully online (not an app from the App Store), and you don't have to pay anything.
Price:$0.99
Spend
Track your personal finances in style with Spend. This is a great way to adopt a budget and stick to it, which is important when you are in between projects and clients.
Price:Free
Web and Graphic Design
Palettes
I never took a color theory class, and now I don't have to. Get full color schemes for your next Ruby app in seconds.
Price:$9.99
Pixelpipe
Conquer social media with your next piece of linkbait with PixelPipe. Now, you can publish photos, videos, or text to over 100 destinations online.
Price:Free
ZeptoPad
Doodle on your phone and create notes and pictures.
Price:$19.99
Dexigner
Keep your finger on the pulse of the design community with Dexigner. Read all of the good design and web development blog in one place, and wow your boss and your clients with a great new design.
Price:Free
Brushes
Draw on your phone with a full set of brushes, transparancies, and zooming.
Price:$4.99
Typography Manual
There is a right way and a wrong way to use typography to build great design. Learn from the masters with Typography Manual.
Price:$4.99
What The Font
Ever see a cool font you want to use for your next web project, only to see that it's an image and you can't tell what font it is? Now, all you have to do is take a picture with your phone and What the Font will figure it out.
Price:Free
Wrapup
I hope you found a lot of useful apps for your life and your projects. What else do you use for your iPhone?Oh, and don't forget to share this app with your friends on Twitter, and to subscribe to the What's the Diff for free by email or RSS.